Comparison Table
Redshift Family
Three astronomy apps by United Soft Media GmbH constitute the "Redshift Family". The most known is the intermediate version, "Redshift – Astronomy", developed in 2010. The version for beginners, "Redshift Compact – Discover Astronomy", was released in 2014. We are now happy to announce the newest and most advanced version, "Redshift Pro – Premium Astronomy"! Compare the features of all the versions.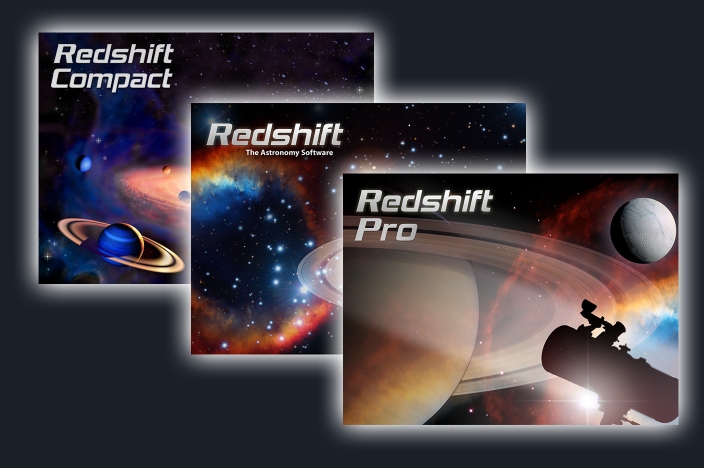 Redshift Compact
Discover Astronomy
Redshift – Astronomy
Redshift Pro
Premium Astronomy
Stars
100,000
100,000
2,500,000
Access to online catalog of 1,000,000,000 stars
Stars with exoplanets
Famous novae and supernovae

Major planets/ dwarf planets
8/5
8/5
8/5
Moons
12
26
26
Comets
16
16
800
Asteroids
39
500
4,000
Asteroid belts
Earth spacecraft

Access to online databases of asteroids/comets/spacecraft
Medium
High
High
Constellations
88
88
88
Deep Sky objects
200
70,000
70,000
Filtering of sky objects
and labels
Medium
High
High
Filtering of celestial lines, markers and grids
Medium
High
High
Search for objects in Redshift database
Object Info
Languages
English, Deutsch,

Français, Русский,

Español, Italiano,

Nederlands, 中国,

Portuguêse, 日本人
English, Deutsch,

Français, Русский,

Español, Italiano,

Nederlands, 中国,

Portuguêse, 日本人
English, Deutsch,

Français, Русский
Animated lectures
"Discover Astronomy"
10
10
25
Earth panoramas
4
18
18
Panoramas of the Moon
and Mars
Background sounds
1
7
7
Daylight view
"Night Vision" view
Show on external display
Basic coordinate systems
1
1
5
Orbits
Planets/Moons
Planets/Moons and user's selected objects
Planetary/lunar mapping
Grid/Poles
Grid/Poles/Gazetteers
Setting/choosing precise location on the Earth
Setting/choosing precise location on planets/moons

3D-flights
Landing on planets and moons
3D-models of deep-sky objects
15
50
73
3D-models of planets/moons
16
35
35
3D-models of asteroids/comets
1
11
11
3D-model of the
Milky Way Galaxy

Follow Sky – recognizing stars and other objects in the sky
Augmented reality
Track of spacecraft
on Earth map
Telescope control

Observation planner
(with animations)
Sun/Moon/ bright planets
Any object, incl. spacecraft
Today's weather and celestial events (with animations)

Sky Diary for an arbitrary year (with animations)

Maps of solar eclipses

Notifications for celestial events and objects visibility

Saving and opening favorite workspaces

Setting startup workspace

Export/Import/E-mailing favorite workspaces

Time interval
1800 - 2200
1600 - 2400
1000 - 2500
Download of extended
time interval
3000BC - 3000AD
Detailed Help Manual

We wish you a pleasant journey into space with Redshift!