Next launch date unknown
Herschel and Planck launch postponed
In order to carry out additional checks on the ground segment of the Herschel and Planck programs, Arianespace and ESA have jointly agreed to postpone the launch initially planned for April 16th. A new launch date will be announced at the end of March.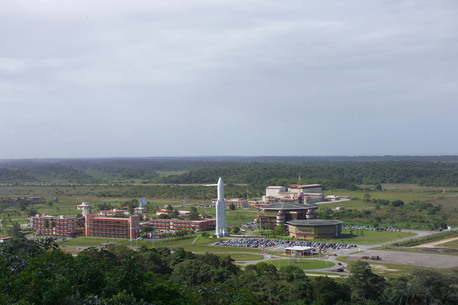 © ESA - S. Corvaja
According to the ESA (European Space Agency) website the decision to postpone the launch by a couple of weeks was needed to finalize the validation of the spacecraft operations procedures following recent software updates.

L2 - an ideal observation spot for space telescopes
The two European satellites Herschel and Planck are engineered for two completely different astronomical questions, but nevertheless will be brought into space by the same Ariane 5 Rocket. They will complete their mission at the Lagrangian point L2 in an area far beyond the moon. L2 is named after the french-italian physicist Joseph Louis Lagrange (1736-1813) and is located 1 million miles beyond earth (viewing from the sun).

Lagrange points are areas in the gravitational field of the Earth, which allow satellites to fly in formation with the earth around the sun. The great benefit is that the satellites do not need to be propelled. The reason for the existence of this convenient parking spot is that the gravitational fields of Sun and Earth as well as the centrifugal force cancel each other out. So ideally the satellite stays in the same spot.

Unfortunately this equilibrium is unstable. The problem to send a satellite to L2 is comparable with the task to hit a golf ball onto a sleek mountain top. If there is the slightest error the ball will roll down again. Once accomplished another benefit is that the satellite can easily be protected from the infrared light, since looking from L2 the Sun and the Earth are always in the same direction.

The great benefits will lead to a whole bunch of satellites inhabiting L2 in the near future. L2 is an ideal spot for space telescopes. However it is the first attempt of ESA to land that difficult shot. The mission was postponed repeatedly for several month. The preparation of the two spacecrafts for launch continues as planned at Europe's Spaceport in Kourou, French Guiana.